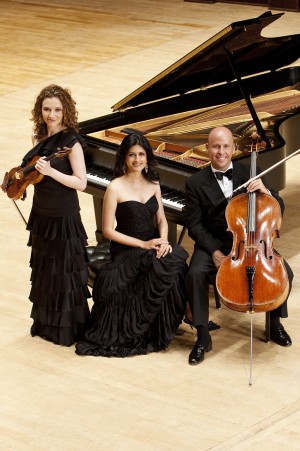 The Chroma Piano Trio was formed by Nurit Pacht (violin), Robert deMaine (cello), and Priya Mayadas (piano). All three artists have prominent recital, orchestral, and chamber music careers and are recognized for their unique creative perspectives. Leonard Rose called deMaine "one of the most profound talents [he had] ever encountered." Pierre Boulez praised "the validity of [Pacht's] stylistic point of view" and "her excellent technical qualities." And John Corigliano stated that Mayadas has "extraordinary…enormous talent [and] musical personality." Collaborations at such venues as the Morgan Library & Museum, Bargemusic, and New York University in New York, have received critical acclaim: The New York Times has praised the members' "vigorous…carefully shaped [and] polished performances, with elegance and energy finely balanced, and an admirably thoughtful approach..." The trio has been interviewed and featured on live programs on National Public Radio, VPR, WXXI and WGDH. As soloists and as an ensemble, the three share a musical vision: to play with expressive resonance and every gradation of color and intensity, or chroma.
Collectively and individually, the group has a special interest in the performance and development of contemporary music. Ms. Pacht has worked extensively with Philip Glass, Pierre Boulez, George Crumb and Aaron Jay Kernis, and has premiered works by Michael Hersh, and Noam Sheriff, whose Violin Concerto Dibrot was dedicated to her. Mr. deMaine has premiered many works written for him, most recently by Christopher Theofanidis, Joel Suben and Jeffrey Mumford. Ms. Mayadas studied with John Corigliano and Miriam Gideon, has won a composition award by Broadcast Music Inc. and is founder of the Concerto Project, a charitable trust dedicated to creating, promoting and sustaining new works for our 21st century repertoire.
The trio members have been frequent guest artists in chamber music festivals worldwide, including Marlboro, Aspen, Seattle, Chautauqua, Norfolk, Mainly Mozart (San Diego), Santa Fe, Heidelberg, Festival Asturias, San Miguel de Allende, Buenos Aires, Mecklenberg Vorpommern, Divonne, Stresa, Kfar Blum, George Crumb, Tartini, Tel Aviv, Monadnock, and have also performed with Music from Marlboro in New York and Washington, D.C.
Violinist Nurit Pacht is a "great artist . . . all fire . . . all ice" (Le Monde), and her "special artistry" (London Times) has "a full palette of colors" (NY Observer), from "extraordinary intensity" (Le Temps) to "a seductive haze" (New York Times) to "bitingly sardonic Blues . . . [to] depth of vision" (Strad) with "the fabric of the greatest violinists of the Century" (Le Journal de Geneve). As a recitalist and concerto soloist, she has performed at London's Wigmore Hall, Vienna's Musikverein, Moscow's Great Hall, Washington's Kennedy Center, Carnegie's Weill Hall, The People's Hall of China in Beijing and Ravinia's Rising Stars Series at the invitation of Christoph Eschenbach, and with the Houston Symphony, Pacific Symphony, Santa Barbara Symphony, Des Moines Symphony, Brooklyn Philharmonic, Santa Rosa Symphony, Filarmonica di Roma, Wroclaw Chamber Orchestra, Georges Enesco Philharmonic, National Symphony of Columbia, Young Israel Philharmonic and Israeli Chamber Orchestra. Dancer/choreographer Bill T. Jones collaborated with her at Milan's Duomo, Kennedy Center and on a U.S. tour at the Lincoln Center Summer Festival. Ms. Pacht grew up in Texas and made her U.S. solo debut with the Houston Symphony. Her principal teacher was Robert Lipsett and she has just completed a Masters degree in the Historical Performance department at Juilliard. Ms. Pacht has won top prizes in international competitions in Europe and the United States, including at the Tibor Varga International Violin Competition in Switzerland. One of her live performances at Wigmore Hall was released by Nimbus records. Ms. Pacht plays a 1750 violin by P. Guarneri.
Robert deMaine has been recognized as "an artist who makes one hang on every note" (New York Times), playing with "modulated color" and "beauty of a Cézanne still-life" or "Vermeer interior" (Detroit Free Press). The first cellist to win Grand Prize at the Irving M. Klein International Competition for Strings, Mr. deMaine has collaborated with many distinguished musicians, including Hilary Hahn, James Ehnes, Gil Shaham, Joseph Silverstein, Emanuel Ax, Andre Watts, and Yefim Bronfman, and conductors Neeme Järvi, Peter Oundjian and Dennis Russell Davies and Leonard Slatkin. A musical "treasure-hunter," Mr. deMaine has a broad repertoire of over one hundred concertos and has premiered many works written for him. As a chamber musician, deMaine has collaborated with the Beaux Arts Trio, Kronos Quartet, Cleveland, Juilliard, Emerson, Parisii, Chiara, and American String Quartets. Currently the Principal Cellist of the Los Angeles Philharmonic, Mr. deMaine has taught extensively, including at the National Orchestra Institute, Michigan University and Eastman School of Music. A fourth-generation string player, Mr. deMaine was born in Oklahoma City. He began cello studies at age four, and at the encouragement of Pierre Fournier went on to study with Leonard Rose at Juilliard. An alumnus of The Eastman School and Yale University, his teachers have included Aldo Parisot and Steven Doane and he has also attended the Kronberg Cello Academy in Germany. Mr. deMaine has recorded for CBC, Elysium, Capstone, and CRI records, and his performances can be heard on NPR's "Performance Today," the CBC, and seen on PBS. He plays an 1841 cello by Jean Baptiste Vuillaume, a gift of the Cecilia Benner Trust.
Pianist and composer Priya Mayadas' playing has been described as "hauntingly beautiful...revel[ing] in the musical colors and shades" (The Statesman), and as "radiant, spiritual and eloquent" (NY Concert Review), "full of breadth and impassioned fervor" (The Strad). Ms. Mayadas "vividly evokes the emotions" of the work (New York Times) and her "persuasive and sympathetic playing... clearly indicates pianism of the first rank" (the Independent). She has given solo recitals and performed throughout the U.S., including at the Ravinia Festival Rising Stars Series, Caramoor Festival, Dame Myra Hess Debut Recital Series, Carnegie Hall's Weill Recital Hall, the Morgan Library, Metropolitan Museum of Art, Merkin Hall and Jordan Hall, and on tour in Asia. She has performed as soloist with the New Jersey Symphony, Dayton Philharmonic, Macon Symphony, Eastern Music Festival orchestra, among others. Her concerts have been broadcast on WGBH in Boston, WFMT in Chicago and WXXI in New York, and her own composition aired on WQXR radio in New York City. Born into a family of concert pianists in India, Ms. Mayadas began playing Mozart melodies by ear at age three, performed in public at age four, and at age nine became one of the youngest winners of a BMI Student Composer Award for her string quartet. She has received awards and top prizes from the National Foundation for Advancement in the Arts, The Abby Whiteside Foundation, Artists International, the New Jersey Governor's Arts Education Award Council, and ASCAP. A student of Peter Serkin, John Corigliano, Miriam Gideon and Patricia Zander, she graduated from New England Conservatory with honors and distinction.